JitSi Box, an opensource box for hybrid online and face-to-face teaching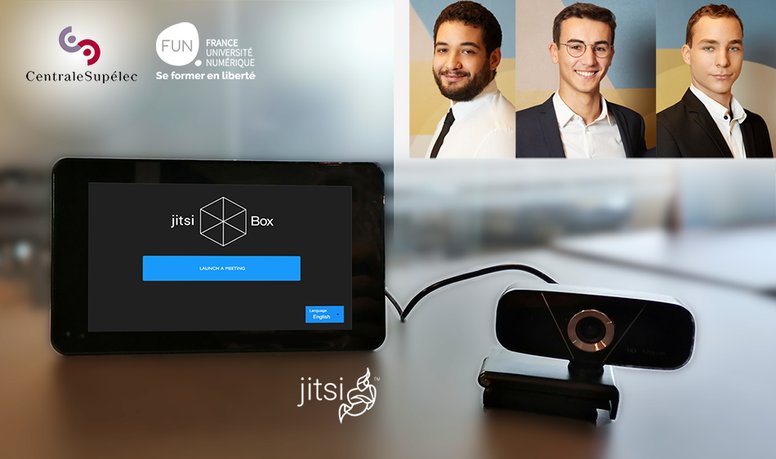 Together, CentraleSupélec's Digital Lab and France Université Numérique have developed a first prototype of an opensource box, which simultaneously enables students who are on campus, and those who are remote, to both attend the course.
This is not the first time that France Université Numérique and CentraleSupélec's Digital Lab work together on online education.  The first partnership in April 2021 between the two organisations has allowed them to develop an online poll for webinars, using the jitsi opensource conference tool. This time, both teams have come together to solve an ever-increasing issue: how to simultaneously allow students who are on campus and those who aren't to attend the course?
Most of us are aware that universities' lecture halls have the appropriate video equipment to broadcast live their lectures to remote students (share their lectures online). However, few universities and schools have been able to equip other rooms, which are smaller and more numerous with such equipment. If interaction between the lecturer and the students is often limited during a lecture, seminars which take place in smaller settings (in a classroom setting) are designed to allow students and teachers to interact.  Our attempt in designing our tool has been driven by the need to launch a user-friendly tool at an affordable price, which enables students to interact with their teacher, whether they are in class or studying remotely.
Renaud Monnet, director and founder of CentraleSupélec's Digital Lab and Samuel Paccoud, Technical Manager at FUN have both initiated the project: a tool that could be designed and set up to allow students and teachers to attend the class, interact in a similar way that they used to before the pandemic, whereby students will be able to ask questions when necessary and listen to their teacher's response. The project was then handed to 3 engineering CentraleSupélec students, Simon Maréchal, Mohamed-Khairallah Gharbi et Arthur Naudy, who have committed 7 weeks of full time work to develop the right tool.
The three students, having experienced the gap and the lack of communication which can take place whenever students and teachers are communicating remotely, were driven by the desire to build a tool which would impact the learning experience by students. Not only did Samuel Paccoud guide and advise the three engineering students where and when it was necessary, but he also encouraged them to be bold and creative in their endeavour. Both Samuel Paccoud and Renaud Monnet, have also urged the students to develop a user-friendly tool. With those guidelines set, the three students along with an UX Designer have worked together to deliver an easy-to-use product.
After 7 weeks of work, they have successfully developed a first prototype of the Jitsi Box, a touch-screen box, with an interface which allows both students and teachers to simultaneously connect in a classroom setting and remotely, all that at an affordable price. With this tool, students who are studying remotely feel that they are on site with their peers, as if they were in a traditional classroom.
The Jitsi Box is made up of 3 components: a web application, a small Raspberry PI computer and a touch-screen which allows the teacher to launch and control the meeting.
How does this work?
The teacher sets the Jitsi Box on an office desk or on a wall at a high place. Then, he proceeds to open the jitsi application as he touches the screen. The students who are studying remotely can now enter the class. The Jitsi box is made up of different interfaces: a microphone to capture the classroom's sound, a camera to record the teacher, the classroom or the board, a screen monitor and a sound system to enable all the users to watch and listen to the class interaction taking place.
An example would be when a teacher connects the Jitsi Box to a large screen in the room, the students who are in the class would be able to see their peers who are connecting remotely, and vice versa using the Jitsi Box's camera. The teacher can also share slides and the class can start. The connected sound system and the microphone enable the learners to talk and listen to each other.
The prototype is now available if you are willing to give it a try.
"This opensource project is like a message in a bottle  sent to teachers, not afraid of DIY, that they give it a try and confirm its usefulness in a class, which has been turned upside-down by the health crisis. This is a tangible contribution to how digital tools can provide solutions to the teaching community. If there is a demand for this tool, we'll launch a more advanced version" says Samuel Paccoud.
If you are willing to give it a try in testing our JitsiBox, you're more than welcomed to join the discussion at  https://github.com/openfun/jitsi-box/discussions. France Université Numérique et le Digital Lab are more than willing to help universities, lecturers, instructional designers or web developers who are interested and to build a more advanced version with them, taking into account their experience in a class setting.
For more information:
Video presentation in English
Video presentation in French
Project website containing the code
Demo site of the application