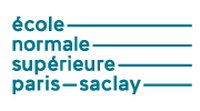 ENS Paris-Saclay
The main mission of École normale supérieure Paris-Saclay is to train students for research and higher education, by providing them with a top-quality cultural and research education, in the tradition of excellence of Écoles normales supérieures.
Both a training centre and a research centre, ENS Paris-Saclay gathers 13 internationally recognized laboratories, in basic sciences, in humanities and social sciences, and in engineering sciences. 3 federative institutes promote interactions between the laboratories, and give support to interdisciplinary actions, which contributes to ENS Paris-Saclay's originality and strength.
Bringing together disciplines, which no other institution congregates in such a way or at such a level, is a unique feature of ENS Paris-Saclay. In this environment, students receive a research- based and research-oriented training, reinforced in their own discipline, and at the same time, interdisciplinary and internationally open, leading them to Master's degree and PhD. 
ENS Paris-Saclay is a founding member of Université Paris-Saclay, a world-class scientific university, acquiring strength from 19 grandes écoles, universities and research organizations."
Related persons
Virginie Albe
Professeure de didactique des sciences et des techniques à l'Ecole Normale Supérieure Paris Saclay, elle conduit dans l'Institut des Sciences Sociales du Politique des recherches sur les mutations contemporaines des disciplines académiques en sciences et technologies.
Bruno Lepioufle
Professeur à l'Ecole Normale Supérieure Paris Saclay il est spécialiste de la conception de dispositifs microfluidiques pour les applications biologiques et médicales au laboratoire CNRS SATIE.
Claire Dupas-Haeberlin
Professeure et Directrice honoraire de l'École Normale Supérieure de Cachan , elle a auparavant dirigé l'Institut d'Électronique Fondamentale (IEF-Université Paris Sud-Orsay/CNRS - aujourd'hui C2N), où elle effectuait ses travaux de recherche sur les couches ultra-minces et les nanostructures magnétiques.