5 reasons to take the HIV Sciences MOOC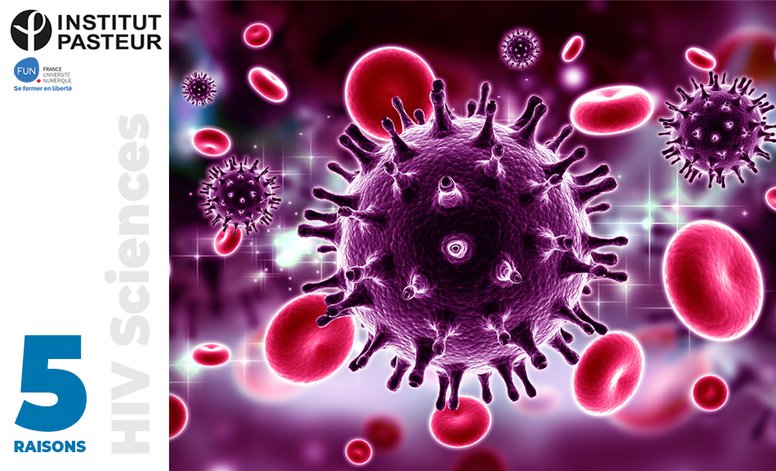 What is the current status of the HIV epidemic? What are the latest advances in the basic biology of HIV? What about treatment and prevention?
Since the beginning of the epidemic, the human immunodeficiency virus or HIV has infected more than 75 million people and caused more than 35 million deaths. Today, although HIV replication can be controlled with antiretroviral therapy, HIV infection remains an exceptional global health problem, with 36.7 million people infected in 2016 and 1 million HIV-related deaths, according to WHO. Half of the infected population does not have access to antiretroviral treatment, and 2 million new infections occur each year. In addition, there is currently no cure for HIV and antiretroviral treatment must be maintained for life.
In this MOOC, we will review the different aspects of HIV infection: from its biological origin and its identification as the causative agent of AIDS to the prospects for eradication. Overall, the course aims to provide a cross-sectional overview of the epidemic from the perspective of scientists, clinicians and people living with HIV.
Here are 5 important reasons to take this course:
Reason n°1: To know the status of the HIV epidemic worldwide.
Reason n°2: Learn about the immune mechanisms that fight the virus and how HIV manages to bypass them.
Reason n°3: Be aware of the existence of rare individuals who control the infection and animal models of spontaneous protection.
Reason n°4: Learn more about the clinical management of HIV infection.
Reason n°5: Discover the latest innovations and perspectives in treatment and prevention.
This MOOC is bilingual English-French.
It is part of the Institut Pasteur Online Diploma of Infectious Diseases (DNM2IP).
To learn more, click here
Institut Pasteur
Course: From March 15, 2022 to May 10, 2022
Enrollment: From Feb. 1, 2022 to May 4, 2022