5 Reasons to take the Course "Tourism Management at UNESCO World Heritage Sites (vol. 3)"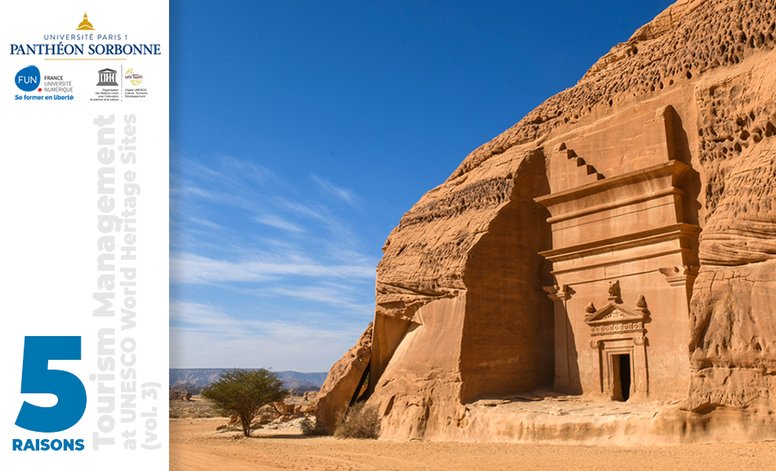 How can tourism and the preservation of the natural, cultural and intangible heritage stay in harmony? How can you commit to protecting and communicating properties of Outstanding Universal Values?
Heritage, culture, conservation and sustainability: these themes are becoming more central, prevalent and relevant for tourism by the day. But culture and heritage are not universally understood concepts and change from community to community, from country to country, from continent to continent – and so do the conceptions on how to conserve and preserve them. Sustainability, in all its declinations, should also play a major role in how tourism needs to interact with the natural and cultural riches of all of humanity.
With this course, the UNESCO UNITWIN Network "Culture, Tourism, Development", established in 2002, tries to show how tourism can be orchestrated in heritage sites, depending on the area and the values in which it takes place. With almost twenty years of expertise in the fields of culture, tourism and development as well as its contributions in the research of tourism studies, the Network wants to share its knowledge in a spirit of solidarity among universities, decision makers, non-governmental organizations, civil society and the private sector.
Here are five reasons explaining what is interesting about this course and why you should follow it:
Reason #1: With this course, learn how UNESCO views and promotes a responsible and sustainable future of tourism by understanding its principles, conventions and guidelines, and discover how it conceives and structures tourism realities related to sustainable tourism, eTourism, site management systems, interpretation, community involvement and marketing.
Reason #2: A rich and international team of researchers and university professors of the UNESCO UNITWIN Network "Culture, Tourism, Development" (42 instructors from 11 countries) compiled a rich list of case studies from all around the world, showing, in this course, numerous possible angles and innovative ideas on how to tackle tourism in the present and future, during crises, for the vulnerable, and in low to high-income contexts.
Reason #3: Thanks to the participation and support of the French Agency for Alula Development (AFALULA), get an exclusive inside look into the challenges and opportunities of tourism development at the Saudi World Heritage Site of Al-Hijr (Madâin Sâlih) with short interviews to professionals working at and for this extraordinary archeological site at the heart of the new Tourism strategy promoted by Saudi Arabia.
Reason #4: Be ready to be an active participant of a huge learner community with which to interact and establish synergies and networking opportunities! Through the materials and interaction with other learners, explore and analyze strategies to provide better experiences, understanding and management of tourism in World Heritage Sites.
Reason #5: The course is held in English and Arabic, and it is NOT mandatory to have participated in the previous 2 volumes to be able to follow it. The course remains available until end of 2022. You are free to share its resources (it is distributed with a CC BY-NC-SA 4.0 license) and use it for your classes, your colleagues, company…
We hope you enjoy this new eLearning journey with us, and hope to see you online!