5 reasons to register to the scikit-learn course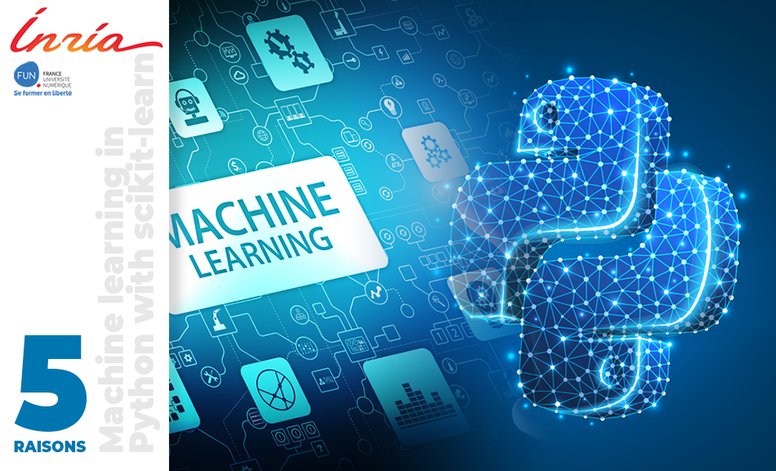 Build predictive models with scikit-learn and gain a practical understanding of the strengths and limitations of machine learning!
Reason n°1: A course written and taught by @scikit_learn core developers
After a fair amount of pedagogical and technical preparation work, five core developers and members of @scikit_learn will guide you in predictive modeling with the use of the scikit-learn Python library!
Reason n°2: Learn to avoid fooling yourself with methodological traps of Machine Learning
The aim of the course, provided only in English, is to teach how to use scikit-learn, but also to be critical about each step of the design of a predictive modeling pipeline: from choices in data preprocessing, to choosing models, gaining insights on their failure modes and interpreting their predictions.
Reason n°3: 100% "Learning by doing" approach with Jupyter notebooks
The course covers practical aspects through the use of Jupyter notebooks and regular exercises. Everything is integrated in the course and you don't have to install anything. Step-by-step and didactic lessons introduce the fundamental methodological and software tools of machine learning.
Reason n°4: Machine Learning impacts all sectors of the economy and scientific research
Predictive modeling is applied to a wide variety of data, from business intelligence to industrial processes and scientific discoveries. Our learning approach is to make machine learning accessible to a wide audience, without a strong technical background.
Reason n°5: Build a network of future Machine Learning experts by interacting online with fellow students
This course features a forum to share your questions and experience in data science with teachers and other participants. It provides an opportunity to expand your network with machine learning fellow learners and experts. Join now the +10,000 members of the #ScikitLearnMooc community!
Enrollment: From January 17, 2022 to May 9, 2022