Industries agroalimentaires : gagnez en performance énergétique
Ref. 32004
Duration: 6 weeks

Effort: 9 hours

Pace: ~1h30/week
Description
Durant 6 semaines, découvrez différents leviers pour répondre aux exigences réglementaires et améliorer votre performance énergétique, comment optimiser vos process et évaluer l'intérêt à vous lancer dans les énergies renouvelables…
Conçu par l'ADEME, des acteurs de la coopération agricole, des industries agroalimentaires et du monde académique, le MOOC INDUSTRIES AGROALIMENTAIRES : GAGNEZ EN PERFORMANCE ÉNERGÉTIQUE, vous donnera des pistes concrètes d'optimisation de vos consommations.
Format
Ce cours est en accès libre. Il ne propose ni forum ni animation et ne délivre pas d'attestation ou de certification.
Retrouvez des vidéos cours, les témoignages de divers acteurs issus des industries agroalimentaires et du monde académique et découvrez comment gagner en performance énergétique !
Testez vos connaissances à travers des quiz.
Prerequisites
Pour suivre ce MOOC, il est nécessaire d'avoir des connaissances générales sur la thématique ou a minima d'avoir suivi le MOOC PROREFEI
A bientôt dans le MOOC Industries agroalimentaires : gagnez en performance energetique.
Assessment and certification
Ce cours ne délivre ni attestation ni certificat.
Course plan
Contexte et opportunités de l'efficacité énergétique

Optimisation des process énergétiques

Optimisation des systèmes énergétiques thermiques

Recours aux énergies renouvelables
Other course runs
Partenaires
Ils ont participé à la réalisation de ce MOOC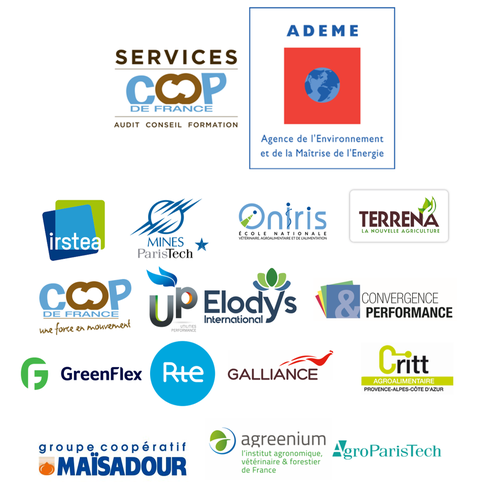 License
License for the course content

You are free to:
Share — copy and redistribute the material in any medium or format
Under the following terms:
License for the content created by course participants

"All rights reserved" is a copyright formality indicating that the copyright holder reserves, or holds for its own use, all the rights provided by copyright law.